CHPC - Research Computing Support for the University
In addition to deploying and operating high performance computational resources and providing advanced user support and training, CHPC serves as an expert team to broadly support the increasingly diverse research computing needs on campus. These needs include support for big data, big data movement, data analytics, security, virtual machines, Windows science application servers, protected environments for data mining and analysis of protected health information, and advanced networking. Visit our Getting Started page for more information.
Posted September 23rd, 2021
---
Updated Aug 23: The Fall 2021 presentations will remain remote only via Zoom: https://utah.zoom.us/j/4111783659
Upcoming Schedule:
---
(Click link above to see a list of affected databases)
Posted August 24th, 2021:
---
Posted August 9th, 2021
---
Posted August 2, 2021
---
Posted August 3rd, 2021
---
Posted July 30, 2021
Friday August 6, 2021, starting at 7:30am - all interactive and compute nodes of notchpeak, kingspeak, lonepeak and ash will be down in order to apply a critical security update.
---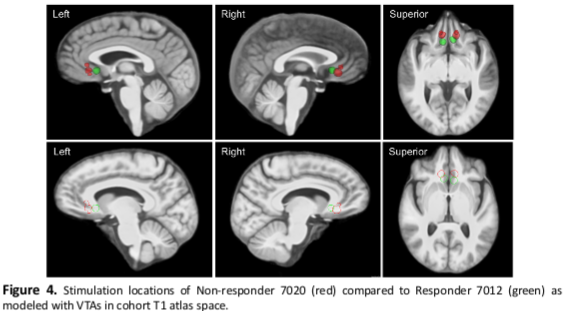 Structural Imaging Evaluation of Subcallosal Cingulate Deep Brain Stimulation for Treatment-resistant Depression
By Kara A. Johnson1,2; Darren L. Clark, PhD3; Gordon Duffley1,2; Rajamannar Ramasubbu, MD3; Zelma H.T. Kiss, MD3; and Christopher R. Butson, PhD1,2,4
1Department of Bioengineering; 2Scientific Computing & Imaging (SCI) Institute; 3Departments of Clinical Neurosciences and Psychiatry, University of Calgary; 4Departments of Neurology and Neurosurgery
Deep brain stimulation (DBS) of the subcallosal cingulate cortex (SCC) is an investigational therapy for treatment-resistant depression (TRD). There is a wide range of response rates for SCC DBS for TRD. The ideal location and extent of stimulation within the SCC to produce substantial therapeutic effects are currently unknown and may vary between patients. We used T1-weighted structural MRI to make between- and within-subject comparisons of volumes of tissue activated (VTAs) relative to structural anatomy to make observations about the effects of stimulation location and settings on clinical response. Our preliminary results suggest that stimulation location and volume relative to T1 structural anatomy alone may not predict clinical response in SCC DBS for TRD. Therapeutic response to SCC DBS may depend on a combination of several factors, such as patient-specific stimulation parameters, duration of stimulation, or other factors that play a role in specific fiber activation. Further analysis is warranted to elucidate whether stimulation locations, parameters, and durations predict therapeutic response to SCC DBS.
System Status
General Environment
last update: 2021-06-10 08:53:04
General Nodes
system
cores
% util.
kingspeak
Status Unavailable
notchpeak
Status Unavailable
lonepeak
Status Unavailable
Owner/Restricted Nodes
system
cores
% util.
ash
Status Unavailable
notchpeak
Status Unavailable
kingspeak
Status Unavailable
lonepeak
Status Unavailable
Protected Environment
last update: 2021-06-10 08:50:02
General Nodes
system
cores
% util.
redwood
Status Unavailable
Owner/Restricted Nodes
system
cores
% util.
redwood
Status Unavailable